The Challenge: More Connected Devices, More Connected Workers
The industrial landscape is rapidly changing. New technology is advancing a legacy world to improve business operations and reduce overall mean-time-to-resolve. However, OT/IoT/IIoT environments pose unique security risks:
Legacy infrastructure lacks the capabilities to support modern security protocols, such as multi-factor authentication (MFA)

Applications utilizing a single account lack visibility and audit capabilities for multiple users

Inability to replace/upgrade legacy systems due to business critical resources and uptime requirements

Airgapped environments with no connection to popular cloud security tools
Instead of spending more time and money replacing your legacy systems, why not use a solution that meets you where you are?
93% of organizations had 1+ intrusions in the past year; 78% had 3+ intrusions*
61% of intrusions impacted OT systems*
* Fortinet, 2022 The State of Operational Technology and Cybersecurity
What is Cyolo?
Cyolo is a next-generation zero-trust access platform with a focus on ease of use and the ability to protect your entire organization, including sensitive industrial environments. Transform your secure access strategy with a unified solution that can protect all your applications natively and simplify existing workflows for both users and admins.
The Solution: Zero Trust Network Access
Reduce Risk of Cyber Incidents
Real-time access control & visibility with session recording & supervised access

Hidden application credentials to support one-to-many use cases

Bring MFA to air-gapped environments and legacy resources
Connect Everything
Aggregate multiple identity providers (IdPs) to create a single digital identity

Support for on-premises, IaaS, and SaaS resources

Native client support for applications like SAP or ERP resources
Increase Operational Productivity
< 10 minute installation via Docker

Allow IT and OT systems to interface at arms length - never integrating the two

Decrease your MTTR while increasing OPEX savings
Cyolo for Modern Authentication & MFA
How does Cyolo compare to other solutions in the market?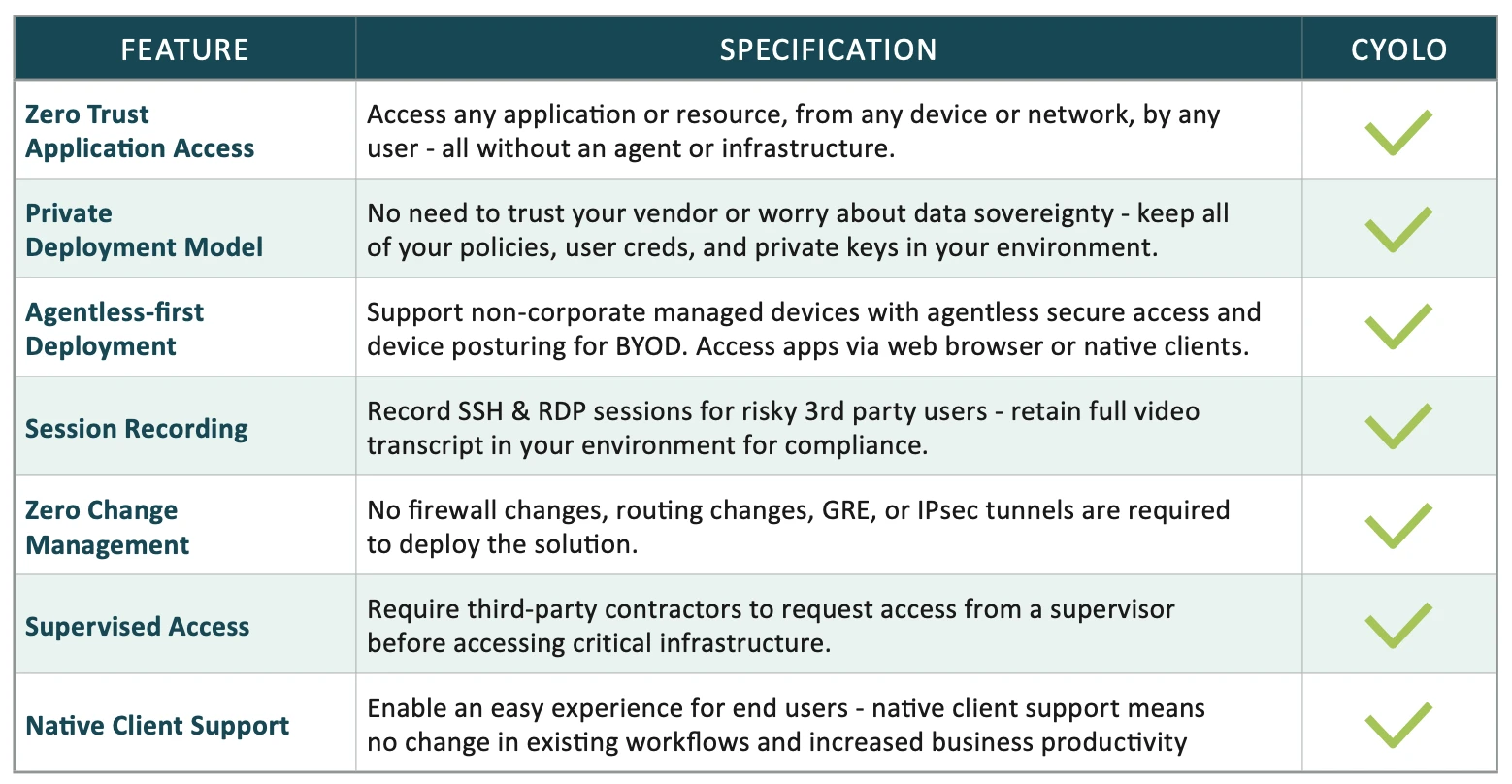 The Cyolo Difference: Security and Agility Without Limits
Cyolo is the only secure access platform that offers true zero-trust security, as all data is kept within the organization's trust boundary at all times. Even if Cyolo were to be breached, your data would still be secure. The Cyolo platform is a comprehensive solution that enables secure access to any application and resource without granting network access and secures access from within the network as well.
Cyolo enables organizations to achieve operational agility and business continuity without the risk, optimize resources, and keep remote workers productive - even when they're away from their workstations.